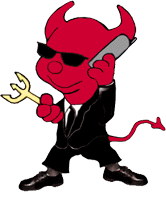 Mailing Lists
TrustedBSD Project Mailing Lists
The TrustedBSD Project mailing lists are hosted on the lists.FreeBSD.org mailman server, where more information may be found on subscribing to the mailing lists.
The following public mailing lists are currently available:
POSIX.1e Mailing List
POSIX.1e, the now-withdrawn POSIX draft defining interfaces for operating system security extensions, continues to play an important role in offering standard interfaces for ACLs, Privileges, and to a limited extent other services. The POSIX.1e mailing list provides a cross-platform forum for the discussion of the draft, as well as practical implementation and portability issues. More information on POSIX.1e can be found by visiting http://wt.xpilot.org/publications/posix.1e, where a draft may also be downloaded.
POSIX.1e mailing list, intended for discussion of the now defunct POSIX.1e draft standard. Web mailing list archives are available.